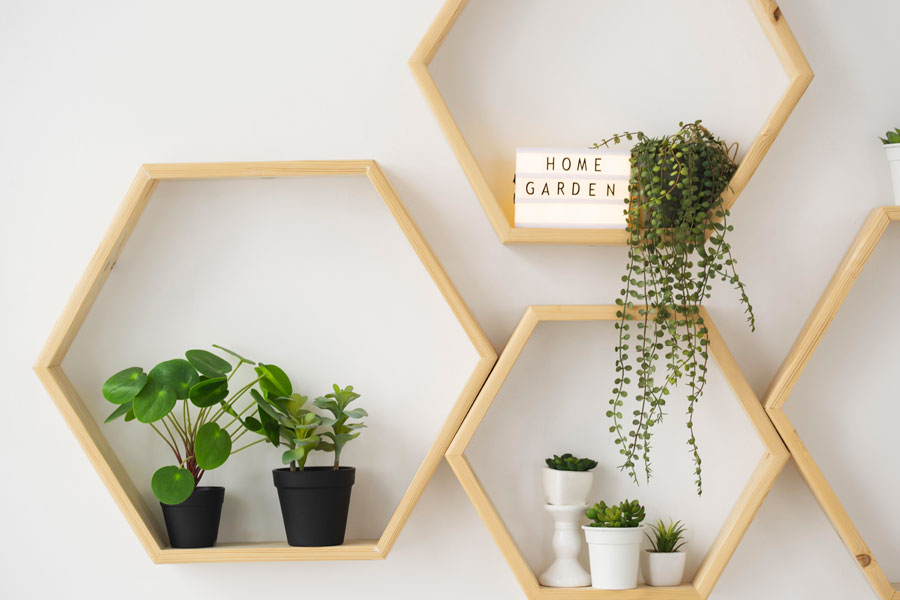 HIS PLANT FOR EVERY ENVIRONMENT
Today it has become increasingly easier to choose a lifestyle with a low environmental impact even at home or in shared spaces.
You can in fact buy home appliances in class A and hold a controlled energy consumption regime. Even the plant contribute to improving the quality of life in closed spaces, in fact, being surrounded by greenery has many advantages on daily life:
They maintain the right humidity, the plants give a pleasant environment thanks to the water present in their land.
They reduce pollution in the environments, the plants oxygenate the room, acting as a natural filter, limiting the presence of polluting dust inside the apartment.
They help decrease the state of stress, a green and lively environment contributes to feeling more relaxed and at the same time increases concentration.
Surely not everyone is lucky enough to have a garden or terrace where to give free rein to your green thumb, especially in modern city homes.
You can still create a small green oasis even inside a room or a workplace.
Two or three plants per room placed in pots, next to the window or on windowsill, allow anyone to have a small green corner at home, enhancing even the most anonymous corners. Even if you don't have an outdoor space, you can still have a mini-garden.
Each environment has different characteristics, all you have to do is choose the most suitable plants.
Let's see together which ones are best to choose based on the room.
Kitchen
They perfume, decorate and make the environment pleasant. Choose some small and easy to move plants, the kitchen must remain a functional and practical environment and while you monitor the cooking of your dishes you can take care of the plants. And if you choose aromatic herbs, you will combine business with pleasure by always having fresh herbs for your dishes.
So basil, thyme, mint, rosemary, sage, oregano, marjoram are perfect. Small vases of terra cotta or tin will help to make the environment nice and pleasant, the wooden boxes of fruit and vegetables are perfect for an eco touch.
Bath
If you want one jungle in the house the bathroom is the perfect place. The degree of humidity of this room is definitely superior to any other place. you can choose tropical plants that grow well even in low light, like ferns, also ideal for purifying the air.
If the bathroom is small you can hang plants to the ceiling or walls to create a pleasant vertical garden.
Bedroom
Rest in a healthy and welcoming environment it is very important for the quality of sleep and life itself. The most suitable for this environment are certainly those who perform an air purifying action is that release overnight a good amount of oxygen such as aloe vera or the very elegant ivy which also helps to reduce any mold.
If you love color, instead, choose gerberas, they will accompany you in a natural chromo-therapy purifying the air.
Living room
The living area is the place where you spend more time inside the house, it is usually larger and well accompanied by natural light, creating a pleasant environment is essential and the suitable plants are different. The fat plants they are a great classic, they decorate with their multiple shapes and require very little care. Fiucus, Monstera and Pilea are other tropical species that live well and for a long time and give a purifying effect for the air.
The choice is yours!