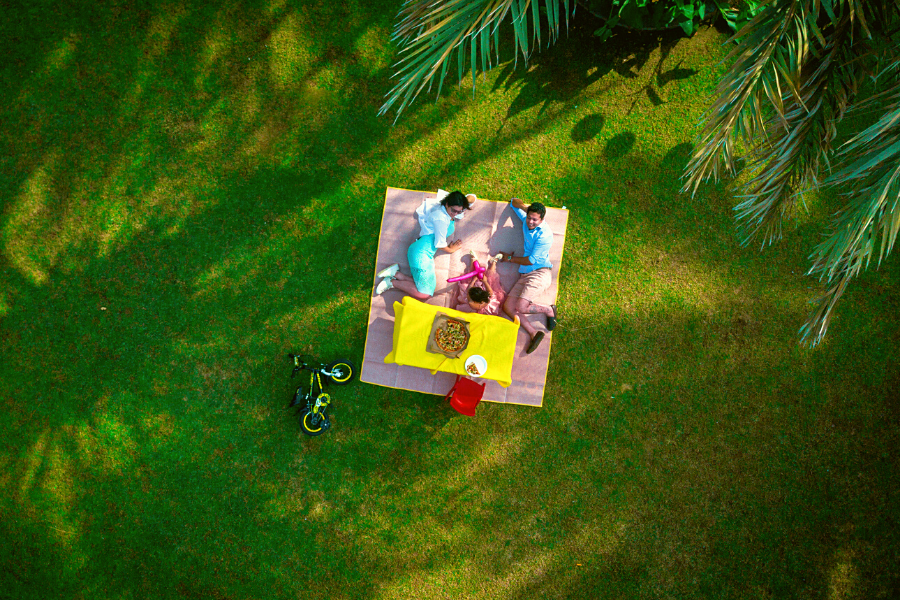 A zero-kilometer picnic
The winning formula to carve out a moment of relaxation in is combine a stay with an outdoor experience and, why not, dishes with zero kilometer products!
Having lunch outdoors, surrounded by nature: on a sunny day we ask nothing else.
And this is how they think in many parts of the world.
This is why International Picnic Day was established on 18 June.
"Take something small", this is the meaning of the word picnic, born in France in the seventeenth century as an outdoor break that the aristocrats indulged themselves.
But why bet on kilometer zero? Here are four positive aspects that will convince you:
Abatement of pollution and waste: use of fuels and emissions resulting from them are limited to a minimum thanks to reduced travel. This also means less use of packaging and storage and packaging systems.
Quality: the products are always local and always fresh, ensuring the absence of products grown in foreign countries with poor quality controls.
Territory and tradition: direct knowledge of producers, collaboration between producers and consumers, possibility to visit and control companies, direct involvement in social activities and development of interpersonal relationships, in addition to the recovery of flavors and flavors typical of food and traditional local recipes.
Cost reduction: the absence of intermediaries between producers and consumers and the reduction of shipping costs and fuel allows you to spend less.
For your day of nature, you can choose a large picnic basket. It must contain everything you need: plates, cutlery, glasses… you just have to add many delicacies. Do not miss the sheets to lay on the lawn or on the sand, plates, cutlery and glasses: and if you fear insects, armed to keep them away!
Here are the best Italian locations for a picnic near home:
If you are in Milan, just a few kilometers of road to get out of the city and reach Boscoincittà. It is a vast green area, which guarantees maximum comfort with arcades and equipped areas, but at the same time surrounds you with 110 hectares of woods, glades, trails, waterways and urban gardens.
If you want to stay in the city, Parco Sempione is one of Milan's favourite destinations for outdoor activities and lunches on the grass.
Staying in the North, La Mandria Park in Turin offers tables, benches, a barbecue area and all the tranquility you need to make your picnic as relaxing as possible.
Going down to Tuscany, in Certaldo, in the province of Florence, you will find the Parco Collinare di Canonica. Here you are captivated by the beautiful landscape, the sinuosity of the hills and vegetation. You can access areas specially designed for packed lunches, with areas dedicated to children and hiking trails, for your beautiful digestive walk.
If you are in Rome we recommend Villa Ada. Between nature, culture, architecture and history, your picnic will taste even better. You can eat in the midst of neoclassical buildings and royal family residences, from 7 am to sunset.
Sicily always has some nice surprises. Among the localities of Corleone, Mezzojuso, Godrano, Marineo and Monreale there are the 7400 hectares of Bosco della Ficuzza, the oldest of the island.
Have a good picnic!