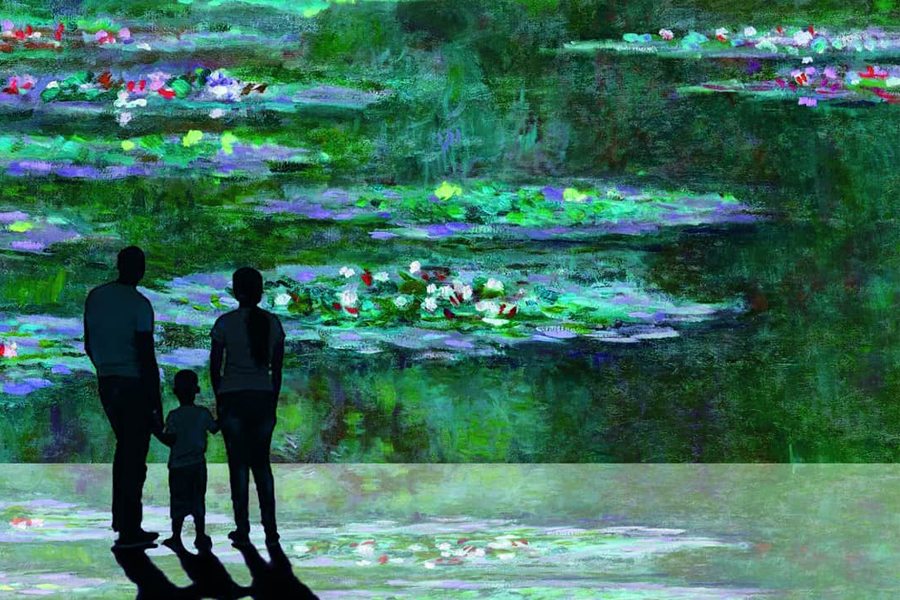 YOU SAY MONET - THINK NATURE
The reopening of social life and cultural activities after the long closings due to Covid-19 finally bring the CLAUDE MONET - THE IMMERSIVE EXPERIENCE to Italy.
After the huge success from Korea to Europe, the magical experience of CLAUDE MONET's immersion in the art finally arrives in Milan at the Teatro degli Arcimboldi from August 1 to December 13, 2020.
An excellent starting point to get closer to the world of art from a truly original point of view, this exhibition in fact manages to combine three apparently very different aspects that come together in a particularly successful way.
Art-Nature-Digital meet in a unique and engaging experience with the aim of bringing people closer to art in all its forms and to look at painting from a different perspective, to be protagonists, starting from the location of the Theater Arcimboldi used as a true 360 ​​° culture container.
The exhibition is a tribute to Monet one of the most beloved founding painters of Impressionism who thanks to his innovative approach to the outside manages to capture on the canvas that unique and unrepeatable moment of life that is fixed through technique and color, without leave out no expressive and emotional nuance.
Just as Monet leaves the ateliè for the en plein air and immerses himself in nature to paint inside it, capturing the variations of light on the landscape and the true essence of things, we too can abandon our mental schemes and approach the art in an absolutely different way, immersing ourselves in the paintings and becoming part of them.
There will be suggestive music to accompany the visit and the freedom to move around to discover the works from different points of view, standing, sitting or even lying down.
Children will also be welcome thanks to an educational and interactive area where they can try their hand at Monet's style and colors!
The painter of nature and flowers with his many works including Iris in Monet's garden, Poppies, Breakfast on the grass, The Japanese bridge, the collection of water lilies, leaves us a very precious treasure where nature and flowers are absolute protagonists !
"Claude Monet - The Immersive Experience" interacts with the observer, takes him by the hand and invites him to enter into the masterpieces of one of the most loved painters of all time.
The visitor walks inside the paintings, thanks to an innovative 3D mapping projection system.
The exhibition area will be revolutionized with the assembly of large screens and thanks to ultra-high definition video projectors, the images will be so crisp as to seem real: the depictions of Monet's best-known paintings will come to life involving and embracing the public. The walls, the ceilings, the floor, every surface will become art ... "
https://monet-experience.it/