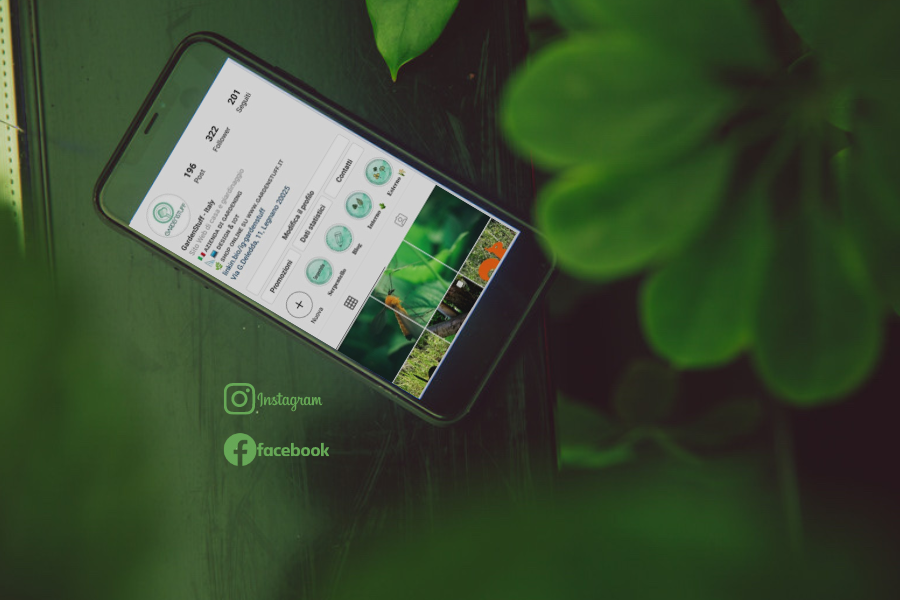 GARDENSTUFF IS MORE SOCIAL NOW
Today young people take great care of their interpersonal relationships, thanks to social networks, such as Facebook or Instagram: very often social relationships are born and strengthened with them.
We know each other virtually, perhaps by chance, with a photo posted and as a reciprocate: a friendship is born and this bond lasts over time.
GardenStuff is a young company, and like young people it wants to strengthen the relationships that bind it to people: this is how the idea of ​​"Social Commerce" was born, a real evolution of traditional e-commerce.
From today shopping is done directly on social networks: you no longer go to Facebook or Instagram just to connect with other people, you also do it to receive news, seek advice and go shopping.
The data that has been renewed and updated on our social channels are unequivocal: in Italy 42% of the population uses at least one social network, and it is both from mobile and from PC. A percentage which is, although slightly, higher than the European average, which stands at 40%.
According to the eCommerce Observatory 2019 of the Digital Innovation Observatories of the Politecnico di Milano more than 18% of online purchases are linked to social media: those who have purchased a product very often seem to have done it because they have seen it on social networks, it does not matter if the user advertised by influencers.
Facebook is the undisputed winner in Social Commerce. Follows Instagram and Pinterest, whose usage data are constantly growing.
GardenStuff wanted to insist on strengthening these three social networks, inserting useful news:
- Facebook: a good presence on Facebook helps to retain our customers. GardenStuff, always careful to habitually entertain our virtual friends with advice and articles related to the "green world", wanted to implement the online request with the introduction of the "product catalog" on its Facebook page. A real showcase for our items for sale on our website, a solid basis for bringing people together in a more social way.
- Instagram: The most popular social of the moment: simple, direct and rich in content. GardenStuff has an eye for its Instagram page: a storytelling of photos published daily are always highly appreciated by our followers, in continuous growth. Next to the likes, we have implemented this offer with an interesting novelty: shopping on Instagram. Now you can show our products, with description and price, with a simple click on the posted image. If interested, the article in question is sent back to our website.
- Pinterest: still little used in Italy, everything has had a boom in use in the last period. Its visual nature par excellence makes it an excellent digital catalog, and GardenStuff updates this catalog with quality photos. Each bulletin board collects our products divided by type, each product has its link on our website. It's easy!
GardenStuff Facebook page: https://www.facebook.com/gardenstuff.it
GardenStuff Instagram page: https://www.instagram.com/gardenstuff/
GardenStuff Pinterest page: https://www.pinterest.it/GardenStuffIoT/